Table of Contents
Standard 220mm wide modules
VLR-8Enc
A PCB to add 8 Encoders with LED ring for each.

Eagle Files: https://github.com/novski/Midibox/tree/master/VLR-8Enc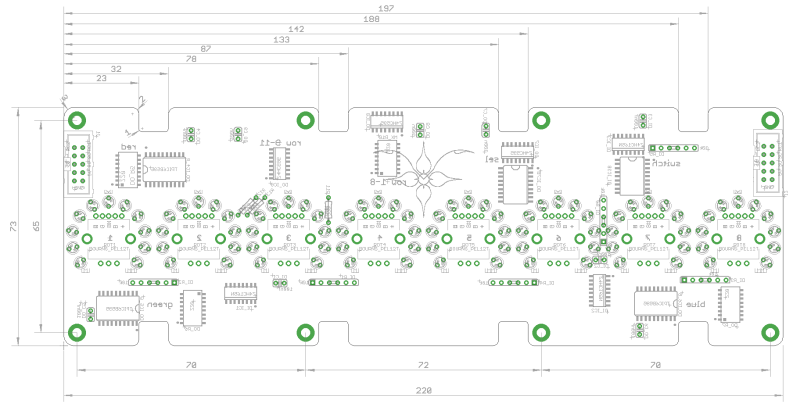 BOM
The Encoders
I was fascinated about the RGB Shaft of this Encoder so i developed all opon this nice piece. Its not the cheapest but i sell them for a reasonable price.
And its still possible to use a non Illuminated Encoder.
The other Materials: Mouser
2x10pin Header, 517-30310-6002

2xULN2803, 595-ULN2803ADWR

9x100nF,594-K104K15X7RF53K2

6x10k, 774-77061103P

4×220, 652-4816P-T1LF-220

3×220, 660-MF1/2LCT52R221J

3x74HC165D, 771-HC165D652

3x74HC595D, 771-74HC595D

3xTPIC6B595, because the MOQ is 250 i deliver them for you with the PCB.

88xLED RED, 604-WP3A8HD

88xLED holder 6mm Height, 749-ELM-5-6MM
Project Order Basket on Mouser: http://www.mouser.com/ProjectManager/ProjectDetail.aspx?AccessID=a6dbae9ab7
The PCB is available under: http://vlrlab.com/lang/17-8enc.html
The Encoder on VLRlabs.com https://www.vlrlab.com/encoder/13-bourns-rgb-led-encoder.html
How to get Started
Prepare the PCB
Start with the SMD parts and then go on the the conventional parts also on the Bottom side. Don't forget the R11,12,13. Then go on with the Topside and the LEDs before soldering the Encoder as last. Check the Connections with a Lens.
Prepare the Connection
Connect the core on J8/9 to J1 of the VLR-8Enc board.
Test it in MIOS
To make it work with MIOS .NGC File we need to know how the shift-registers are connected.
Inputs:
1# Encoder 1-4
2# Encoder 5-8
3# Encoder Button 1-8

Outputs:
1# RED Shaft LED 1-8
2# GREEN shaft LED 1-8
3# BLUE shaft LED 1-8
4# LED Ring Row 1-8
5# LED Ring Selct 1-8
6# LED Ring Select 9-11

Assuming that the VLR-8Enc is the first device on the chain of J8/9 we need to configure it like this:
RESET_HW

LCD "%C"

# Encoder configuration

ENC n= 1 sr=1 pins=0:1 type=detented2
ENC n= 2 sr=1 pins=2:3 type=detented2
ENC n= 3 sr=1 pins=4:5 type=detented2
ENC n= 4 sr=1 pins=6:7 type=detented2
ENC n= 5 sr=2 pins=0:1 type=detented2
ENC n= 6 sr=2 pins=2:3 type=detented2
ENC n= 7 sr=2 pins=4:5 type=detented2
ENC n= 8 sr=2 pins=6:7 type=detented2

# LEDring configuration
DOUT_MATRIX n= 1 rows=16 mirrored_row=0 inverted_sel=1 sr_dout_sel1= 4 sr_dout_sel2= 0 sr_dout_r1= 5 sr_dout_r2= 6

# Encoder events
EVENT_ENC id= 1 fwd_id=LED_MATRIX:1 type=CC chn= 1 cc= 24 lcd_pos=1:1:2 label="^std_enc" LED_MATRIX_PATTERN=2
EVENT_ENC id= 2 fwd_id=LED_MATRIX:2 type=CC chn= 1 cc= 25 lcd_pos=2:1:2 label="^std_enc" LED_MATRIX_PATTERN=2
EVENT_ENC id= 3 fwd_id=LED_MATRIX:3 type=CC chn= 1 cc= 26 lcd_pos=3:1:2 label="^std_enc" LED_MATRIX_PATTERN=2
EVENT_ENC id= 4 fwd_id=LED_MATRIX:4 type=CC chn= 1 cc= 27 lcd_pos=4:1:2 label="^std_enc" LED_MATRIX_PATTERN=2
EVENT_ENC id= 5 fwd_id=LED_MATRIX:5 type=CC chn= 1 cc= 28 lcd_pos=5:1:2 label="^std_enc" LED_MATRIX_PATTERN=2
EVENT_ENC id= 6 fwd_id=LED_MATRIX:6 type=CC chn= 1 cc= 29 lcd_pos=6:1:2 label="^std_enc" LED_MATRIX_PATTERN=2
EVENT_ENC id= 7 fwd_id=LED_MATRIX:7 type=CC chn= 1 cc= 30 lcd_pos=7:1:2 label="^std_enc" LED_MATRIX_PATTERN=2
EVENT_ENC id= 8 fwd_id=LED_MATRIX:8 type=CC chn= 1 cc= 31 lcd_pos=8:1:2 label="^std_enc" LED_MATRIX_PATTERN=2

# Encoder Buttons

EVENT_BUTTON id=117 hw_id=17 fwd_id=LED:8 type=cc chn=1 cc=15 range=0:127 button_mode=OnOff lcd_pos=1:1:3 label="R^std_btn"
EVENT_BUTTON id=117 hw_id=17 fwd_id=LED:16 type=cc chn=1 cc=15 range=0:127 button_mode=OnOff lcd_pos=1:1:4 label="G^std_btn"
EVENT_BUTTON id=117 hw_id=17 fwd_id=LED:24 type=cc chn=1 cc=15 range=0:127 button_mode=OnOff lcd_pos=1:1:5 label="B^std_btn"

EVENT_BUTTON id=118 hw_id=18 fwd_id=LED:7 type=cc chn=1 cc=15 range=0:127 button_mode=OnOff lcd_pos=2:1:3 label="R^std_btn"
EVENT_BUTTON id=118 hw_id=18 fwd_id=LED:15 type=cc chn=1 cc=15 range=0:127 button_mode=OnOff lcd_pos=2:1:4 label="G^std_btn"
EVENT_BUTTON id=118 hw_id=18 fwd_id=LED:23 type=cc chn=1 cc=15 range=0:127 button_mode=OnOff lcd_pos=2:1:5 label="B^std_btn"

EVENT_BUTTON id=119 hw_id=19 fwd_id=LED:6 type=cc chn=1 cc=15 range=0:127 button_mode=OnOff lcd_pos=3:1:3 label="R^std_btn"
EVENT_BUTTON id=119 hw_id=19 fwd_id=LED:14 type=cc chn=1 cc=15 range=0:127 button_mode=OnOff lcd_pos=3:1:4 label="G^std_btn"
EVENT_BUTTON id=119 hw_id=19 fwd_id=LED:22 type=cc chn=1 cc=15 range=0:127 button_mode=OnOff lcd_pos=3:1:5 label="B^std_btn"

EVENT_BUTTON id=120 hw_id=20 fwd_id=LED:5 type=cc chn=1 cc=15 range=0:127 button_mode=OnOff lcd_pos=4:1:3 label="R^std_btn"
EVENT_BUTTON id=120 hw_id=20 fwd_id=LED:13 type=cc chn=1 cc=15 range=0:127 button_mode=OnOff lcd_pos=4:1:4 label="G^std_btn"
EVENT_BUTTON id=120 hw_id=20 fwd_id=LED:21 type=cc chn=1 cc=15 range=0:127 button_mode=OnOff lcd_pos=4:1:5 label="B^std_btn"

EVENT_BUTTON id=121 hw_id=21 fwd_id=LED:4 type=cc chn=1 cc=15 range=0:127 button_mode=OnOff lcd_pos=5:1:3 label="R^std_btn"
EVENT_BUTTON id=121 hw_id=21 fwd_id=LED:12 type=cc chn=1 cc=15 range=0:127 button_mode=OnOff lcd_pos=5:1:4 label="G^std_btn"
EVENT_BUTTON id=121 hw_id=21 fwd_id=LED:20 type=cc chn=1 cc=15 range=0:127 button_mode=OnOff lcd_pos=5:1:5 label="B^std_btn"

EVENT_BUTTON id=122 hw_id=22 fwd_id=LED:3 type=cc chn=1 cc=15 range=0:127 button_mode=OnOff lcd_pos=6:1:3 label="R^std_btn"
EVENT_BUTTON id=122 hw_id=22 fwd_id=LED:11 type=cc chn=1 cc=15 range=0:127 button_mode=OnOff lcd_pos=6:1:4 label="G^std_btn"
EVENT_BUTTON id=122 hw_id=22 fwd_id=LED:19 type=cc chn=1 cc=15 range=0:127 button_mode=OnOff lcd_pos=6:1:5 label="B^std_btn"

EVENT_BUTTON id=123 hw_id=23 fwd_id=LED:2 type=cc chn=1 cc=15 range=0:127 button_mode=OnOff lcd_pos=7:1:3 label="R^std_btn"
EVENT_BUTTON id=123 hw_id=23 fwd_id=LED:10 type=cc chn=1 cc=15 range=0:127 button_mode=OnOff lcd_pos=7:1:4 label="G^std_btn"
EVENT_BUTTON id=123 hw_id=23 fwd_id=LED:18 type=cc chn=1 cc=15 range=0:127 button_mode=OnOff lcd_pos=7:1:5 label="B^std_btn"

EVENT_BUTTON id=124 hw_id=24 fwd_id=LED:1 type=cc chn=1 cc=15 range=0:127 button_mode=OnOff lcd_pos=8:1:3 label="R^std_btn"
EVENT_BUTTON id=124 hw_id=24 fwd_id=LED:9 type=cc chn=1 cc=15 range=0:127 button_mode=OnOff lcd_pos=8:1:4 label="G^std_btn"
EVENT_BUTTON id=124 hw_id=24 fwd_id=LED:17 type=cc chn=1 cc=15 range=0:127 button_mode=OnOff lcd_pos=8:1:5 label="B^std_btn"

LED_MATRIX_PATTERN n=2 pos= 0 pattern=1111110000000000
LED_MATRIX_PATTERN n=2 pos= 1 pattern=0111110000000000
LED_MATRIX_PATTERN n=2 pos= 2 pattern=0011110000000000
LED_MATRIX_PATTERN n=2 pos= 3 pattern=0001110000000000
LED_MATRIX_PATTERN n=2 pos= 4 pattern=0001110000000000
LED_MATRIX_PATTERN n=2 pos= 5 pattern=0000110000000000
LED_MATRIX_PATTERN n=2 pos= 6 pattern=0000010000000000
LED_MATRIX_PATTERN n=2 pos= M pattern=0000111000010000
LED_MATRIX_PATTERN n=2 pos= 8 pattern=0000010000000000
LED_MATRIX_PATTERN n=2 pos= 9 pattern=0000011000000000
LED_MATRIX_PATTERN n=2 pos=10 pattern=0000011000000000
LED_MATRIX_PATTERN n=2 pos=11 pattern=0000011100000000
LED_MATRIX_PATTERN n=2 pos=12 pattern=0000011110000000
LED_MATRIX_PATTERN n=2 pos=13 pattern=0000011110000000
LED_MATRIX_PATTERN n=2 pos=14 pattern=0000011111000000

Im using my VLR-8oDisp board to show the Values of every item. You can change it to any other type of Display-setting… lcd_pos=6:1:5 {6=Display number : 1= X-axis : 5= Y-Axis (row)}