This is an old revision of the document!
---
Table of Contents
Fadercore
Standard 220mm wide modules
VLR-8Enc
A PCB to add 8 Encoders with LED ring for each.

Eagle Files: https://github.com/novski/Midibox/tree/master/VLR-8Enc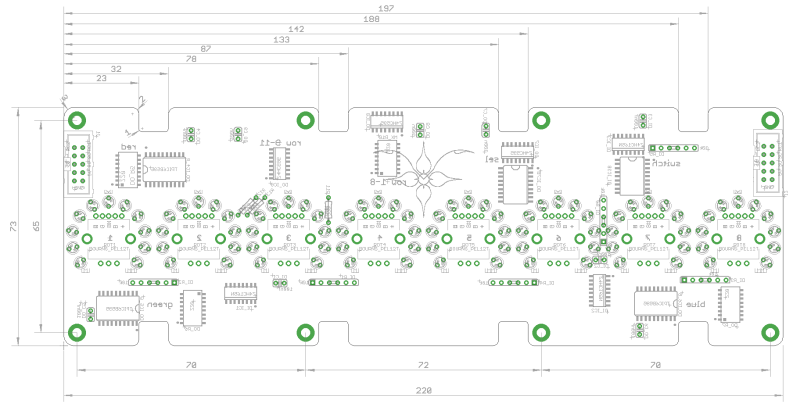 BOM
The Encoders
I was fascinated about the RGB Shaft of this Encoder so i developed all opon this nice piece. Its not the cheapest but i sell them for a reasonable price.
And its still possible to use a non Illuminated Encoder.
The other Materials: Mouser
2x10pin Header, 517-30310-6002

2xULN2803, 595-ULN2803ADWR

9x100nF,594-K104K15X7RF53K2

6x10k, 774-77061103P

4×220, 652-4816P-T1LF-220

3×220, 660-MF1/2LCT52R221J

3x74HC165D, 771-HC165D652

3x74HC595D, 771-74HC595D

3xTPIC6B595, because the MOQ is 250 i deliver them for you with the PCB.

88xLED RED, 604-WP3A8HD

88xLED holder 6mm Height, 749-ELM-5-6MM
Project Order Basket on Mouser: http://www.mouser.com/ProjectManager/ProjectDetail.aspx?AccessID=a6dbae9ab7
The PCB is available under: http://vlrlab.com/lang/17-8enc.html
How to get Started
Prepare the PCB
Prepare the Connection
Test it in MIOS
fadercore_-_vlr-8enc.1406389604.txt.gz · Last modified: 2014/07/26 15:46 by novski