Table of Contents
MB-6582 PT-10 Case / Milling Bulk Order
Note: This Bulk Order has been extended !
The enclosure used in Wilba's MB-6582 prototype: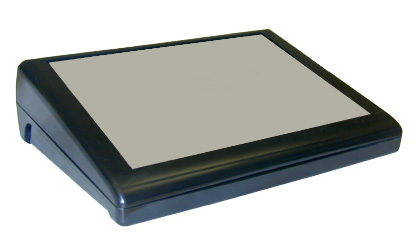 Is now set for a bulk order for North and Central America. The enclosure is available in Black and Bone, but this bulk order will only deal with the Black enclosure. In addition, those that take part in the bulk order will have the option to have the panels milled and silk screened. All panels sent to Doug will be Black anodized and he is offering a single color of white silk screening (B/W) or red & white silk screening(B/R&W). The bulk order will close Nov.1, 2008 Dec 15th 2008 Jan 15, 2009……which is also the last day to make a decision on having the front and rear panels done. Those that choose not to have the panels done, will receive their case(s) shortly after the order has arrived. The milling fee will be determined by Doug Wellington after the number of participants have been calculated. There is no limit on the number of cases per individual, but the milling will follow Wilba's design (final) as standard:
http://www.flickr.com/photos/wilba/379953666/
How To Sign Up For A PT-10 case
If you want to get a PT-10 case, click on the "Edit this page" button (top left corner) and add your MIDIbox username and the number of PT-10 cases you would like. When adding your name to the list, please specify whether you would like your panels milled & silk screened or not (Y/N).
ADD YOUR NAME AND QUANTITY TO THE END OF THE LIST
DO NOT DO ANY OTHER EDITS TO THIS PAGE
Adding your username and quantity is not a commitment to purchase them if/when I have them available to sell, however, if you change your mind, please come back here and change/remove your list entry.
Username
Quantity
Milled
B/W
B/R&W
seekwhensir
5
3 only Y
1
2
jimh54
1
Y
1
m00dawg
1
Y
1
veau
1
Y
1
Mmalluck
1
Y
1
Matrix12x
1
Y
1
KnowGood
2
Y
1
1
dioioib
5
3 only Y
3
Filch
1
Y
1
0
Natsirt
2
Y
2
sensorium
3
Y
3
total
23